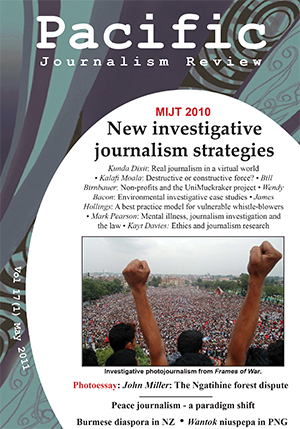 Editors: David Robie and Rosser Johnson
Two leading investigative journalists who are also media educators have called on university journalism schools to pool their top student resources to undertake investigative journalism projects.
They have also appealed to journalism schools to work collaboratively across institutions and borders to target major investigations.
They present their case – including a proposal to set up a so-called UniMuckraker project for the Australia-NZ-Pacific region – in the latest edition of Pacific Journalism Review being published next week.
Australian Bill Birnbauer of Monash University, who is a member of the US-based International Consortium of Investigative Journalists, proposed the UniMuckraker strategy for collaboration with a joint multimedia website in an article examining non-profit foundations and their support for investigative journalism in the US.