Fr Francis Mihalic and Wantok niuspepa in Papua New Guinea
Abstract
Papua New Guinea's Tok Pisin language newspaper Wantok, founded in 1969, is one of the publishing icons of the South Pacific. Drawing on interviews with Fr Francis Mihalic and Bishop Leo Arkfeld made in the early 1990s, a manuscript history of the early days of the Wantok, written by Mihalic, and material drawn from the archives in the Society of the Divine Word's mother house in Mt Hagen, this article seeks to present a picture of a man who was at once a priest, a publisher, a propagandist, a linguist, a lecturer and often a cause of bewilderment to the very bishops whose work he was supposed to be doing. While acknowledging Mihalic's role as the creator of Wantok, it places the emergence of the newspaper within an historical, educational, religious and social framework that shows it emerging and growing in response to several broad trends.
Downloads
Download data is not yet available.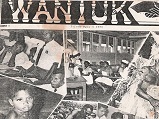 How to Cite
Cass, P. (2011). Fr Francis Mihalic and Wantok niuspepa in Papua New Guinea. Pacific Journalism Review : Te Koakoa, 17(1), 210-226. https://doi.org/10.24135/pjr.v17i1.380
Copyright (c) 2011 Philip Cass
This work is licensed under a Creative Commons Attribution-NonCommercial 4.0 International License.