Vol. 24 No. 2 (2018): Journalism under duress in Asia-Pacific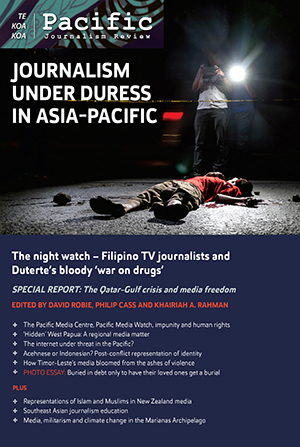 Editors: David Robie, Philip Cass and Khairiah A. Rahman

November 2 is the United Nations date that is observed globally each year to mark the International Day to End Impunity for Crimes Against Journalists (IDEI). To honour journalists who have died, or have been beaten, tortured or brutally gagged in defence of the truth and the public right to know and to explore safety of journalist strategies, this is a special edition of Pacific Journalism Review. This follows on from the Pacific Media Centre's public seminar in Auckland, Aotearoa/New Zealand, in November 2017 marking 10 years of the centre. Several multimedia presentations were made at the seminar in support of a free press in the Asia-Pacific region. The Ampatuan massacre of 32 journalists in the Philippines in 2009, with a failure of the authorities to successfully prosecute anybody for this horrendous crime almost a decade later, and violent abuses against journalists in West Papua were some of the issues raised in the seminar. Fiji, Papua New Guinea and Samoa are among Oceania nations that are cracking down on internet freedom to stifle "ghost writers" and "troublemakers" as one Pacific leader has described them.   
Cover photograph: © Fernando G. Sepe Jr. of ABS-CBN News
Frontline editor: Wendy Bacon
Associate editor and reviews editor: Philip Cass
Assistant editor: Khariah A. Rahman
Design editor: Del Abcede
Proof readers: Linnéa Eltes and Ani Zhang
Cover: Pamela Valenzuela
Tuwhera OJS online support: Luqman Hayes and Donna Coventry
Print edition: Little Island Press
Full Issue