The night watch: Filipino TV journalists and Oplan Tokhang
Experiencing coverage of the Duterte Administration's bloody campaign against illegal drugs
Mariquit Almario-Gonzalez

Asian Center for Journalism, Ateneo de Manila University
Keywords:
Duterte's war on drugs, graveyard-shift news, intimidation, journalism ethics, journalism trauma, media harassment, Oplan Tokhang, phenomenology, Philippines, television journalists
Abstract
Filipino journalists covering the graveyard shift were the first recorders of violence and brutality under Philippine President Duterte's anti-illegal drugs campaign. The first phase in 2016, called Oplan Tokhang, was executed ruthlessly and relentlessly. This study aims to explore how graveyard-shift TV journalists experienced covering Oplan Tokhang. The intention is to get a deeper understanding of how the experience impacted on the way they reported on the Oplan Tokhang stories. To get the essence of the Oplan Tokhang coverage experience, the study used a phenomenological research approach. Four graveyard-shift TV journalists agreed to face-to-face in-depth interviews. The participants came from major TV networks in the Philippines. Analysis of the results was framed within the lens of symbolic interactionism and discussions of past literature. The study presented constructed realities of four television journalists who described their nightly struggles to perform their duties, surrounded by a climate of death and suffering, in the violent world of Oplan Tokhang. Four themes emerged describing the experience: a) A 'horror fest' of violence, brutality and suffering; b) A constrained and controlled coverage; c) Objectivity and the truth; and d) Post-mortem: Falling short of fulfilling journalistic duties. These themes revealed ethical dilemmas encountered by the television journalists. They faced realities of intimidation and threat, resorting to self-censorship. Repeated exposure to violence desensitised the television journalists. The rush to meet nightly deadlines resulted in simplified treatment of stories, missing the context of the issue. In reflection, the TV journalists realised they fell short in fulfilling the journalist's obligation to search for the truth and to report it.
Downloads
Download data is not yet available.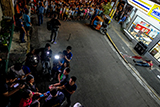 How to Cite
Almario-Gonzalez, M. (2018). The night watch: Filipino TV journalists and Oplan Tokhang: Experiencing coverage of the Duterte Administration's bloody campaign against illegal drugs. Pacific Journalism Review : Te Koakoa, 24(2), 42-63. https://doi.org/10.24135/pjr.v24i2.450
Section
Articles (Themed)
Copyright (c) 2018 Mariquit Almario-Gonzalez
This work is licensed under a Creative Commons Attribution-NonCommercial 4.0 International License.