REVIEW: A crusade for media truth and justice
Keywords:
press freedom, media freedom, impunity, journalists, journalist safety, reviews
Abstract
The First Casualty: From the Front Lines of the Global War on Journalism, by Peter Greste. Sydney: Viking. 2017. 335 pages. ISBN 9780670079261.
PETER GRESTE, the Australian journalist who became a thorn in the side of the harsh Egyptian authorities from the inside of prison cells and in a courtroom cage for 400 days, hasn't wasted opportunities since he became the UNESCO chair of journalism and communication at the University of Queensland earlier this year. He chose World Press Freedom Day as the moment to launch a new independent body dedicated to campaigning for reporters whose 'voices have been stifled' by regimes around the world.
Downloads
Download data is not yet available.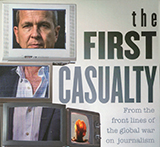 How to Cite
Robie, D. (2018). REVIEW: A crusade for media truth and justice. Pacific Journalism Review : Te Koakoa, 24(2), 258-262. https://doi.org/10.24135/pjr.v24i2.434
Copyright (c) 2018 David Robie
This work is licensed under a Creative Commons Attribution-NonCommercial 4.0 International License.