Representations of Islam and Muslims in New Zealand media
Khairiah A Rahman

AUT University

Azadeh Emadi
Keywords:
bias, framing, intercultural communication, Islam, Islamic dialogue and persuasion, Islamic theory of Ta'will, media representations, New Zealand
Abstract
In the global media scene, media ownership is controlled by groups with political agendas. Intolerance of 'the other', from Islam and migrants to people of colour, show the rise of fundamentally prejudiced groups who relate well to negative media representations of 'the other', further fuelling financial support for dominant public voices, at the expense of those silenced by discrimination. Media studies on Islam show negative portrayals in Western media which neglect the Muslim voice. Some reasons include news culture, lack of knowledge about Islam and unawareness of the consequences from such narratives. This article identifies the growing trend of stories in the New Zealand media relating to 'Islamic terrorism' and critically analyses a random sampling of five news articles between 2014 and 2016 in terms of the negative, positive and ambivalent news content, both in their use of the written text and visual representations of Islam and Muslims. The tendency to use negative framing is evident with the absence or manipulation of the Muslim voice. Using the Islamic perspective of dialogue and persuasion, the theory of Ta'will, and socio-political rationale, the effects of and motivations for the written and visual news content are discussed. A case is made for a greater understanding of the textual and visual elements and more ethical reporting through intercultural engagement.
Downloads
Download data is not yet available.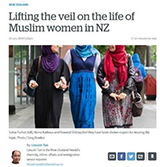 How to Cite
Rahman, K. A., & Emadi, A. (2018). Representations of Islam and Muslims in New Zealand media. Pacific Journalism Review : Te Koakoa, 24(2), 166-188. https://doi.org/10.24135/pjr.v24i2.419
Section
Articles (Unthemed)
Copyright (c) 2018 Khairiah A Rahman, Azadeh Emadi
This work is licensed under a Creative Commons Attribution-NonCommercial 4.0 International License.