REVIEW: Indonesian repression and betrayal in West Papua
Keywords:
colonialism, human rights, photojournalism, political journalism, reviews, West Papua
Abstract
Papua Blood: A Photographer's Eyewitness Account of West Papua Over 30 Years, by Peter Bang. Copenhagen, Denmark: Remote Frontlines,  2018. 248 pages. ISBN 978-87-430-0101-0
See No Evil: New Zealand's Betrayal of the People of West Papua, by Maire Leadbeater. Dunedin, NZ: Otago University Press, 2018. 310 pages. ISBN 978-1-98-853121-2
TWO damning and contrasting books about Indonesian colonialism in the Pacific, both by activist participants in Europe and New Zealand, have recently been published. Overall, they are excellent exposés of the harsh repression of the Melanesian people of West Papua and a world that has largely turned a blind eye to to human rights violations.
Downloads
Download data is not yet available.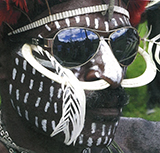 How to Cite
Robie, D. (2018). REVIEW: Indonesian repression and betrayal in West Papua. Pacific Journalism Review : Te Koakoa, 24(2), 266-271. https://doi.org/10.24135/pjr.v24i2.438
Copyright (c) 2018 David Robie
This work is licensed under a Creative Commons Attribution-NonCommercial 4.0 International License.