Insights into traditional Pacific warfare 'rules'
Review of Under the Protection of the Palm: Wars of Dignity in the Pacific. Suva: Regional Delegation in the Pacific, International Committee of the Red Cross
Keywords:
armed conflict, Bougainville war, conflict reporting, conflict resolution, ethnic conflict, ethnic minorities, peace journalism, war reporting
Abstract
The decade-long civil war in Bougainville, sporadic warfare in the Papua New Guinea Highlands, ethnic conflict in the Solomon Islands, and human rights violations during four coups and deaths in custody in the wake of a military barracks mutiny have demonstrated the need for a wider Pacific understanding of international humanitarian law (IHL).
Downloads
Download data is not yet available.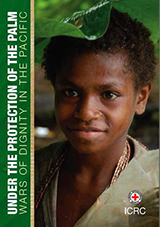 How to Cite
Robie, D. (2010). Insights into traditional Pacific warfare 'rules': Review of Under the Protection of the Palm: Wars of Dignity in the Pacific. Suva: Regional Delegation in the Pacific, International Committee of the Red Cross. Pacific Journalism Review : Te Koakoa, 16(1), 209-212. https://doi.org/10.24135/pjr.v16i1.1019
Copyright (c) 2010 Pacific Journalism Review
This work is licensed under a Creative Commons Attribution-NonCommercial 4.0 International License.