Independence for Kanaky: A media and political stalemate or a 'three strikes' Frexit challenge?
Abstract
The French-ruled territory of New Caledonia, or Kanaky, as Indigenous pro-independence campaigners call their cigar-shaped islands, voted on their political future on 4 November 2018 amid controversy and tension. This was an historic vote on independence in a 'three-strikes' scenario in the territory ruled by France since 1853, originally as a penal colony for convicts and political dissidents. In the end, the vote was remarkably close, reflecting the success of the pro-independence Kanak and Socialist National Liberation Front (FLNKS) in mobilising voters, particularly the youth. The referendum choice was simple and stark. Voters simply had to respond 'yes' or 'no' to the question: 'Do you want New Caledonia to attain full sovereignty and become independent?' In spite of prophecies of an overwhelming negative vote, the 'no' response slipped to a 56.4 percent vote while the 'yes' vote wrested a credible 43.6 percent share with a record turnout of almost 81 percent. New Caledonia is expected to face two further votes on the independence question in 2020 and 2022. The author of this article reported as a journalist on an uprising against French rule in the 1980s, known by the euphemism 'les Évènements' ('the Events'). He returned there three decades later as an academic to bear witness to the vote and examine the role of digital media and youth. This article reflects on his impressions of the result, democracy and the future.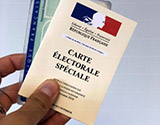 How to Cite
Robie, D. (2019). Independence for Kanaky: A media and political stalemate or a 'three strikes' Frexit challenge?. Pacific Journalism Review : Te Koakoa, 25(1&2), 81-100. https://doi.org/10.24135/pjr.v25i1.477
This work is licensed under a Creative Commons Attribution-NonCommercial 4.0 International License.
Authors submitting articles for publication warrant that the work is not an infringement of any existing copyright and will indemnify the publisher against any breach of such warranty. By publishing in Pacific Journalism Review, the author(s) agree to the dissemination of their work through Pacific Journalism Review and on the PJR databases.
By publishing in Pacific Journalism Review, the authors grant the Journal a Creative Commons nonexclusive worldwide license for electronic dissemination of the article via the internet, and, a nonexclusive right to license others to reproduce, republish, transmit, and distribute the content of the journal. The authors grant the Journal the right to transfer content (without changing it), to any medium or format necessary for the purpose of preservation.
Authors agree that the Journal will not be liable for any damages, costs, or losses whatsoever arising in any circumstances from its services, including damages arising from the breakdown of technology and difficulties with access.