REVIEW: Timely climate media strategy to empower citizens
Abstract
Journalism and Climate Crisis: Public Engagement, Media Alternatives, edited by Robert A. Hackett, Susan Forde, Shane Gunster and Kerrie Foxwell-Norton. Abingdon, UK: Routledge. 2017. 204 pages. ISBN 978-1-1389-5039-9
AT THE time of reviewing this important and timely book, Hurricane Irma had just ripped a trail of unprecedented destruction from Antigua, Barbuda and Saint Barthélemy in the eastern Caribbean to Florida with at least 81 deaths. Florida involved one of the largest mass evacuations in US history, with nearly 7 million people being warned to seek shelter elsewhere. Seventy per cent of Miami lost electricity at the height of the storm.
References
Abadi, M. (2017, September 15). Trump did a 180 on Harvey and Irma after he was asked about climate change, Business Insider Australia. Retrieved from www.businessinsider.com.au/trump-response-to-hurricane-harvey-and-irma-climate-change-2017-9?r

Caputo, M. (2017, September 14). Florida governor remains unsure about climate change after Hurricane Irma. Politico.com. Retrieved from www.politico.com/states/florida/story/2017/09/14/florida-governor-remains-unsure-about-climate-change-after-hurricane-irma-114498

Christians, C., Glasser, T., McQuail, D., Nordenstreng, K., and White, R.A. (2009). Normative theories of the media: Journalism in democratic societies. Urbana and Chicago, IL: University of Illinois Press.

Hackett, R. A. (2017). Can peace journalism be transposed to climate crisis news? Pacific Journalism Review, 23(1), 14-24. DOI: http://dx.doi.org/10.24135/pjr.v23i1.100

McChesney, R.W., & Nichols, J. (2010). The death and the life of American journalism. Philadelphia, PA: Nation Books.

Multiple authors (2017, September 12). Media reaction: Hurricane Irma and climate change. Carbon Brief. Retrieved from www.carbonbrief.org/media-reaction-hurricane-irma-climate-change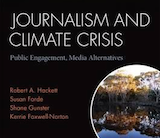 How to Cite
Robie, D. (2017). REVIEW: Timely climate media strategy to empower citizens. Pacific Journalism Review : Te Koakoa, 23(2), 221-224. https://doi.org/10.24135/pjr.v23i2.337
This work is licensed under a Creative Commons Attribution-NonCommercial 4.0 International License.
Authors submitting articles for publication warrant that the work is not an infringement of any existing copyright and will indemnify the publisher against any breach of such warranty. By publishing in Pacific Journalism Review, the author(s) agree to the dissemination of their work through Pacific Journalism Review and on the PJR databases.
By publishing in Pacific Journalism Review, the authors grant the Journal a Creative Commons nonexclusive worldwide license for electronic dissemination of the article via the internet, and, a nonexclusive right to license others to reproduce, republish, transmit, and distribute the content of the journal. The authors grant the Journal the right to transfer content (without changing it), to any medium or format necessary for the purpose of preservation.
Authors agree that the Journal will not be liable for any damages, costs, or losses whatsoever arising in any circumstances from its services, including damages arising from the breakdown of technology and difficulties with access.