The social construction of humour
Cartooning in the Pacific
Keywords:
cartoonists, political journalism, media freedom, subversion
Abstract
Fiji journalistic cartoons, especially when making political critiques, tend to be too shallow with an irritating tendency to state and show the obvious, a cardinal sin in cartooning. There is no subtlety or double meaning
Downloads
Download data is not yet available.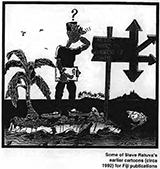 How to Cite
Ratuva, S. (2001). The social construction of humour: Cartooning in the Pacific. Pacific Journalism Review : Te Koakoa, 7(1), 119-126. https://doi.org/10.24135/pjr.v7i1.712
Copyright (c) 2001 Pacific Journalism Review
This work is licensed under a Creative Commons Attribution-NonCommercial 4.0 International License.