Critical Fiji media studies defy climate of censorship
Review of Media and Democracy in Fiji, edited by Shailendra Singh and Biman Prasad. Suva: Fijian Studies: A Journal of Contemporary Fiji (2008/9). 6 (Nos. 1 and 2)
Keywords:
censorship, democracy, ethics, Fiji coups, media freedom, freedom of information, media regulation
Abstract
The special edition on 'Media and Democracy in Fiji' of Fijian Studies: A Journal of Contemporary Fiji is an engaging collection of articles of diverse quality presented in varying degrees of intellectual temperaments, some with political passion and unrestrained emotion, some with journalistic vigour and some with serious scholastic zeal. A few articles are outstanding in terms of analytical depth and cutting edge approach while some are lacklustre and lack what it takes to be a journal article. Nevertheless, the intensity of discourse relating to the media in Fiji and the Pacific is enough to inspire one's sense of appreciation of the role the media and journalists who operate in politically challenging environments like Fiji play. (The last such collection was 'crisis in coverage' published after the George Speight attempted coup, May, 2000).
Downloads
Download data is not yet available.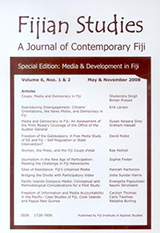 How to Cite
Ratuva, S. (2009). Critical Fiji media studies defy climate of censorship: Review of Media and Democracy in Fiji, edited by Shailendra Singh and Biman Prasad. Suva: Fijian Studies: A Journal of Contemporary Fiji (2008/9). 6 (Nos. 1 and 2). Pacific Journalism Review : Te Koakoa, 16(1), 219-223. https://doi.org/10.24135/pjr.v16i1.1022
Copyright (c) 2010 Pacific Journalism Review
This work is licensed under a Creative Commons Attribution-NonCommercial 4.0 International License.