Editorial: Meltdowns and militarisation
Keywords:
culture, environment, environmental journalism, failed states, indigenous research, neoliberalism, postcolonialism,
Abstract
During the Pacific Science Inter-Congress in Fiji in July 2013, an integrated symposium on 'Oceans and Nations: "Failed" states and the environment' in the Pacific, was hosted at the University of the South Pacific. The brainchild of USP's Dr Mohit Prasad and professors Victor Bascara, Keith Comacho and Elizabeth DeLoughrey of the University of California at Los Angeles, this drew its inspiration from another conference at Laucala Bay some two years earlier. The 2010 Oceans, Islands and Skies Symposium (OIS), with papers published in a special edition of the USP literary journal Dreadlocks (Prasad, 2010-11) in 2012, had established the disruption to the traditionally organic and fluid nature of relations between artists, writers and performers in the Pacific by the contemporary crisis of the environment. A follow-up Oceans and Nations Symposium explored relations between impacts on the environment, and crisis in political and related development, among the emerging nation-states of the Pacific.
Cover cartoon from Rod Emmerson, New Zealand Herald.
Downloads
Download data is not yet available.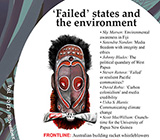 How to Cite
Robie, D. (2014). Editorial: Meltdowns and militarisation. Pacific Journalism Review : Te Koakoa, 20(2), 7-15. https://doi.org/10.24135/pjr.v20i2.161
Copyright (c) 2014 David Robie
This work is licensed under a Creative Commons Attribution-NonCommercial 4.0 International License.