Pacific Media Watch and protest in Oceania: An investigative free media case study
Keywords:
Australia, censorship, citizen journalism, Fiji, investigative journalism, media freedom, media mobilisation, media plurality, New Zealand, Oceania, Pacific, Pacific Media Watch, Papua New Guinea, political activism, public agenda,
Abstract
In the past three decades, global and regional media freedom advocacy and activist groups have multiplied as risks to journalists and media workers have escalated. Nowhere has this trend been so marked as in the Oceania region where some four organisations have developed a media freedom role. Of these, one is unique in that while it has had a regional mission for almost two decades, it has been continuously based at four university journalism schools in Australia, Fiji, New Zealand and Papua New Guinea. Pacific Media Watch was founded as an independent, non-profit and non-government network by two journalism academics in the Australian Centre for Independent Journalism (ACIJ) at the University of Technology, Sydney. Its genesis was the jailing of two Taimi 'o Tonga journalists, 'Ekalafi Moala and Filokalafi 'Akau'ola, and a 'whistleblowing' pro-democracy member of Parliament in Tonga, 'Akilisi Pohiva, for alleged contempt in September 1996. PMW played a role in the campaign to free the three men. Since then, the agency has developed an investigative journalism strategy to challenge issues of ethics, media freedom, industry ownership, cross-cultural diversity and media plurality. One of PMW's journalists won the 2013 Dart Asia-Pacific Centre for Journalism and Trauma Prize for an investigation into torture and social media in Fiji. This article presents a case study of the PMW project and examines its history and purpose as a catalyst for independent journalists, educator journalists, citizen journalists and critical journalists in a broader trajectory of Pacific protest.
Figure 1: A Pacific Media Watch Fiji torture and social media investigation series won the Dart Asia-Pacific Centre trauma journalism prize in 2013.
Downloads
Download data is not yet available.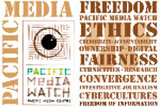 How to Cite
Robie, D. (2014). Pacific Media Watch and protest in Oceania: An investigative free media case study. Pacific Journalism Review : Te Koakoa, 20(1), 35-60. https://doi.org/10.24135/pjr.v20i1.186
Copyright (c) 2014 David Robie
This work is licensed under a Creative Commons Attribution-NonCommercial 4.0 International License.