Review: Merdeka: Media and the case for Papuan civil resistance
Keywords:
civil resistance, civil rights, freedom of speech, freedom of expression, media freedom, political activism, reviews, West Papua
Abstract
Five years ago the Pacific Media Centre and Pacific Media Watch published a 'state of media freedom report'—the first such documentation in the Pacific region—and the most devastating section was about West Papua (Perrottet & Robie, 2011, 2012). The harrowing account of human rights violations and abuses of freedom of speech by the Indonesian military and security forces eclipsed comparable reports from the Pacific, including Fiji which was at the time a cause célèbre for free press champions. The theme of this report echoed many articles I have written over the years highlighting the 'black' or 'blind spot' demonstrated by New Zealand media neglect of covering West Papua and the self-determination cause (see Robie, 2011). Since then much has changed.
Downloads
Download data is not yet available.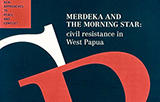 How to Cite
Robie, D. (2016). Review: Merdeka: Media and the case for Papuan civil resistance. Pacific Journalism Review : Te Koakoa, 22(1), 241-244. https://doi.org/10.24135/pjr.v22i1.22
Copyright (c) 2016 David Robie
This work is licensed under a Creative Commons Attribution-NonCommercial 4.0 International License.