'Carbon colonialism': Pacific environmental risk, media credibility and a deliberative perspective
Keywords:
climate change, democracy, Deliberative journalism, environmental journalism, environmental risk, global warming, objectivity, media freedom, media mobilisation, media plurality,
Abstract
The effects of climate change are already occurring in all continents and across the oceans, and the situation has deteriorated since the last account in 2007, warned the United Nations scientific agency charged with monitoring and assessing the risks earlier this year. According to the Intergovernmental Panel on Climate Change Fifth Assessment Report (IPCC, 2014), the world is ill-prepared to manage warming and an increase in magnitude is likely to lead to 'severe and pervasive impacts that may be surprising or irreversible'. Seriously at risk are Small Island Developing States (SIDS), including several in the Pacific, such as Kiribati, Marshall Islands and Tuvalu. The UN has declared 2014 as the International Year of SIDS and a summit was hosted in Samoa during September. Living in one of the world's most vulnerable regions to the impact of climate change and the challenges of aid effectiveness and adaptation funding, journalists are at a critical crossroads. This article examines environmental risk, media creativity and a contradiction between normative and traditional Western journalism values and the Pacific profession's own challenges of 'adaptation' in telling the story of global warming with a deliberative perspective.
Caption: Figure 2: Climate Change Warriors from Fiji: 'We are not drowning. We are fighting.' world.350.org/pacificwarriors/
Downloads
Download data is not yet available.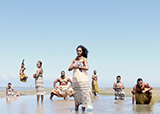 How to Cite
Robie, D. (2014). 'Carbon colonialism': Pacific environmental risk, media credibility and a deliberative perspective. Pacific Journalism Review : Te Koakoa, 20(2), 59-75. https://doi.org/10.24135/pjr.v20i2.166
Copyright (c) 2014 David Robie
This work is licensed under a Creative Commons Attribution-NonCommercial 4.0 International License.