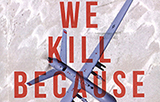 REVIEW: Drone killings on a par with mafia hitmen
Abstract
We Kill Because We Can: From Soldiering to Assassination in the Drone Age, by Laurie Calhoun. London: Zed Books. 2016. 400pp. ISBN 978-1-78360-547-7 pbk.
Keywords
drones; conflict journalism; war correspondence
References
Ackerman, S. (2016, July 1). Obama claims US drones strikes have killed up to 116 civilians. The Guardian. Retrieved from https://www.theguardian.com/us-news/2016/jul/01/obama-drones-strikes-civilian-deaths
Refbacks
There are currently no refbacks.
---
This work is licensed under a Creative Commons Attribution-NonCommercial-NoDerivatives 4.0 International License.