EDITORIAL: Independent journalism
Keywords:
Independent media, Independent publishing, Investigative journalism, Student press, University media
Abstract
Discussion about the role of journalism in universities too often leaves the impression that our main, and even only game, should be producing employees for major media corporations. This issue of Pacific Journalism Review assumes much more than that. The theme for the issue is investigative journalism, particularly material presented at the 'Back to the Source' investigative journalism conference hosted by the Australian Centre for Independent Journalism (ACIJ) and the Australian Broadcasting Corporation in Sydney in September 2011. This was the second regional investigative journalism conference; the first, hosted by the Pacific Media Centre, provided the theme for PJR (MIJT, 2011). These conferences, and indeed Pacific Journalism Review, are based on the notion that the goal of university based journalism is to develop links between journalists—whether full-time employees of major companies, freelancers, academics or students—in order to promote a more independent and critical culture of journalism in our region, without which democracy cannot flourish. This goal suggests a relationship much wider and more challenging than simply the production of qualified journalists.
Downloads
Download data is not yet available.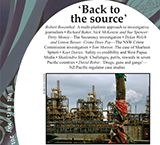 How to Cite
Bacon, W., & Morton, T. (2012). EDITORIAL: Independent journalism. Pacific Journalism Review : Te Koakoa, 18(1), 6-11. https://doi.org/10.24135/pjr.v18i1.285
Copyright (c) 2012 Wendy Bacon, Tom Morton
This work is licensed under a Creative Commons Attribution-NonCommercial 4.0 International License.