EDITORIAL: Journalism with integrity
Keywords:
asylum seekers, editorial, Frontline, interviews, investigative journalism, media law, university media,
Abstract
This is the third issue Pacific Journalism Review has published on the theme of investigative journalism in recent years. Our first issue (PJR, 2011) followed the first regional Investigative Journalism conference held at the Pacific Media Centre at Auckland University of Technology in December 2010. In that issue, we argued that universities and academic journalists have an important role to play in building a culture of investigative reporting in the region. This issue follows up on that suggestion by focusing particularly on investigative journalism produced in an academic context. The second edition followed the 'Back to the Source' conference hosted by the Australian Centre for Investigative Journalism (ACIJ) and the Australian Broadcasting Corporation in September 2011 (PJR, 2012). Since our 2011 issue, pressures on the business model that once sustained high quality investigative journalism have continued to increase. As we go to press, photographers' jobs at Fairfax media are threatened. Journalists have mobilised to focus public attention on the role of photographers as newsgatherers. Walkley Award-winning Fairfax photographer Kate Geraghty's picture of asylum seekers holding up their identity cards as they are transported in buses into the Manus Island detention centre in Papua New Guinea in 2013 is a reminder of how images recorded by journalists courageous enough to defy official restrictions on media have both humanised and publicised the plight of asylum seekers in our region.
Downloads
Download data is not yet available.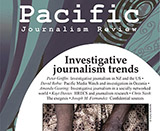 How to Cite
Bacon, W. (2014). EDITORIAL: Journalism with integrity. Pacific Journalism Review : Te Koakoa, 20(1), 7-10. https://doi.org/10.24135/pjr.v20i1.184
Copyright (c) 2014 Wendy Bacon
This work is licensed under a Creative Commons Attribution-NonCommercial 4.0 International License.