Tackling a persistent trail of gender obstacles
Review of Women and their Words: Notable Pioneers in New Zealand Journalism, by Janet McCallum
Keywords:
gender, history, press history, New Zealand Truth, newspapers, The Dominion, The Listener, The Press, The Observer
Abstract
Press history in New Zealand is still in its infancy and unless more interest is taken in the subject it will never reach adulthood. Research in this fi eld has been fragmentary. There have been some general studies, for example Guy Scholefield's (1958) Newspapers in New Zealand and Patrick Day's (1990) The making of the New Zealand press. There are some substantial histories of The Press (O'Neill, 1963), Independent Newspapers Ltd (Verry, 1985) and the NZPA (Sanders, 1979). There have been various centennial publications such as Karl du Fresne's (2009) celebration of The Dominion. And in the last decade there have been positive signs of a resurgence of interest in the history of our newspapers with some exciting research underway or already published. Joanna Woods' (2009) Facing the music: Charles Baeyertz and The Triad is a recent welcome addition and in the wings are works on New Zealand Truth (Redmer Yska), The Listener (Lyn Barnes) and parliamentary journalists (Nikki Hessell).
Downloads
Download data is not yet available.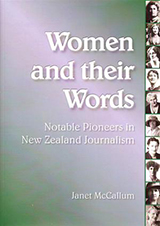 How to Cite
Oosterman, A. (2010). Tackling a persistent trail of gender obstacles: Review of Women and their Words: Notable Pioneers in New Zealand Journalism, by Janet McCallum. Pacific Journalism Review : Te Koakoa, 16(1), 224-228. https://doi.org/10.24135/pjr.v16i1.1023
Copyright (c) 2010 Pacific Journalism Review
This work is licensed under a Creative Commons Attribution-NonCommercial 4.0 International License.