Noted: Frontline humour takes on generals
Review of Defiant Humour: The Best of Harn Lay's Political Cartoons from the Irrawaddy, by Harn Lay
Keywords:
cartoonists, human rights, media freedom, political activism, political cartooning
Abstract
This is is a new political cartoon collection by Burmese artist and cartoonist Harn Lay. It is a revealing insight into Burma—where political resistance and traditional art and performance meet. The book demonstrates and is part of the ongoing resistance to an unjust abuse of power. Lay portrays key issues such as political prisoners, extended house arrest of pro-democracy icon Aung San Suu Kyi, the military's response to sanctions, Burma-ASEAN relations and business deals with neighbouring countries.
Downloads
Download data is not yet available.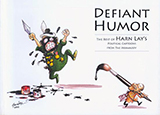 How to Cite
Cho, V. (2009). Noted: Frontline humour takes on generals: Review of Defiant Humour: The Best of Harn Lay's Political Cartoons from the Irrawaddy, by Harn Lay. Pacific Journalism Review : Te Koakoa, 15(1), 242-243. https://doi.org/10.24135/pjr.v15i1.979
Copyright (c) 2009 Pacific Journalism Review
This work is licensed under a Creative Commons Attribution-NonCommercial 4.0 International License.