OBITUARY: A hard-nosed, hard-case 'scoop king'
Warren Berryman, investigative journalist and publisher, 1939-2004
Keywords:
corruption, independent media, independent news, independent publishing, investigative journalism, obituaries
Abstract
The death of Warren Berryman, founder and managing editor of The Independent Business Weekly, marks the end of an era in New Zealand journalism. Renowned as a gutsy, no-nonsense journo and 'the consummate nosy bastard', he pioneered investigative reporting in this country and earned respect from friend and foe alike.
Pictured: Jenni McManus and Warren Berryman/John McDermott/Metro
Downloads
Download data is not yet available.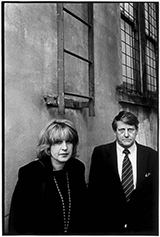 How to Cite
Stephenson, J. (2004). OBITUARY: A hard-nosed, hard-case 'scoop king': Warren Berryman, investigative journalist and publisher, 1939-2004. Pacific Journalism Review : Te Koakoa, 10(1), 207-213. https://doi.org/10.24135/pjr.v10i1.787
Copyright (c) 2004 Pacific Journalism Review
This work is licensed under a Creative Commons Attribution-NonCommercial 4.0 International License.