Noted: RSF cheekily climbing the barricades
David Robie

Philip Cass

Mari Dunlop
Keywords:
climate change, Dawn Raids, diaspora, diaspora media, environmental journalism, freedom of expression, freedom of information, media freedom, Reporters Without Borders, reviews
Abstract
Reviews of: Saving Independent Journalism: 30 Years Defending Media and Hostile Climate of Environmental Journalists. Paris, France: Reporters Without Borders. No ISBN (Reviewed by David Robie); The United Nations and Freedom of Expression and Information, edited by Tarlach McGonagle and Yvonne Donders. Cambridge, UK: Cambridge University Press. ISBN 978-1107083868 (Reviewed by Philip Cass); Pacific Way: Auckland's Pasifika Community Diaspora Media, by Michael Neilson. Auckland: Pacific Media Centre. ISBN 978-1-927184-35-6 (Reviewed by Mari Dunlop).
Thirty years ago, Reporters Sans Frontières began its global campaign for the protection of journalists and against propaganda as a fledgling NGO in the southern French city of Montpellier. Better known in the Anglophone world as Reporters Without Borders, RSF declares in the editorial of this milestone publication that it has been 'cheekily climbing the barricades, boldly waving freedom's banner, proclaiming the virtues of journalism, supporting heroes, dispensing safety equipment, funding resistance and applying pressure in the palaces where the laws are written' (p. 3).
Downloads
Download data is not yet available.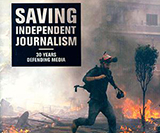 How to Cite
Robie, D., Cass, P., & Dunlop, M. (2016). Noted: RSF cheekily climbing the barricades. Pacific Journalism Review : Te Koakoa, 22(1), 249-253. https://doi.org/10.24135/pjr.v22i1.25
Copyright (c) 2016 David Robie, Philip Cass, Mari Dunlop
This work is licensed under a Creative Commons Attribution-NonCommercial 4.0 International License.