REVIEW: Bookshelf: Reading something as flimsy as a novel
Three reviews of books by Epeli Hau'ofa, John Mulgan and Herman Melville
Keywords:
fiction, foreign aid, geopolitics, journalism, Pacific studies, reviews
Abstract
In this section of Pacific Journalism Review we ask our regular contributors to pick three books that have played an important part of their academic, professional or writing lives. In this issue, the selection is by veteran Pacific affairs reporter MICHAEL FIELD.
Tales of the Tikongs, by Epeli Hau'ofa. Honolulu, US: University of Hawai'i Press. 1994. 104 pages. ISBN 9780824815943.
Man Alone, by John Mulgan. Auckland, NZ: Penguin Random House. 1939/2002. 224 pages. ISBN: 9780143020011.
Typee, by Herman Melville. Auckland, NZ: Penguin Random House. 1846/2001. 116 pages. ISBN: 9780375757457.
NON-FICTION is, mostly, my thing. It takes a bit to persuade me to devote precious book time to something as flimsy as a novel. Yet, at the top of my list of influential books is Epeli Hau'ofa's Tales of the Tikongs, published in 1994. The one defence for its inclusion in this list is that it never felt like fiction: it was unerringly accurate when it came to the world of Pacific states and foreign aid. Hau'ofa followed it with Kisses in the Nederends in 1995. Five years later, on the Suva campus at the University of the South Pacific, I asked him why his satire ran to only two volumes. He replied that he had no desire to be the Pacific Salman Rushdie.
Downloads
Download data is not yet available.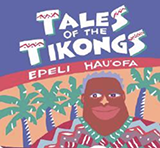 How to Cite
Field, M. (2020). REVIEW: Bookshelf: Reading something as flimsy as a novel: Three reviews of books by Epeli Hau'ofa, John Mulgan and Herman Melville. Pacific Journalism Review : Te Koakoa, 26(2), 300-301. https://doi.org/10.24135/pjr.v26i2.1143
Copyright (c) 2020 Michael Field
This work is licensed under a Creative Commons Attribution-NonCommercial 4.0 International License.