Next edition: Call for Papers: PJR: 30 years on – special edition: Will journalism survive?
14-08-2023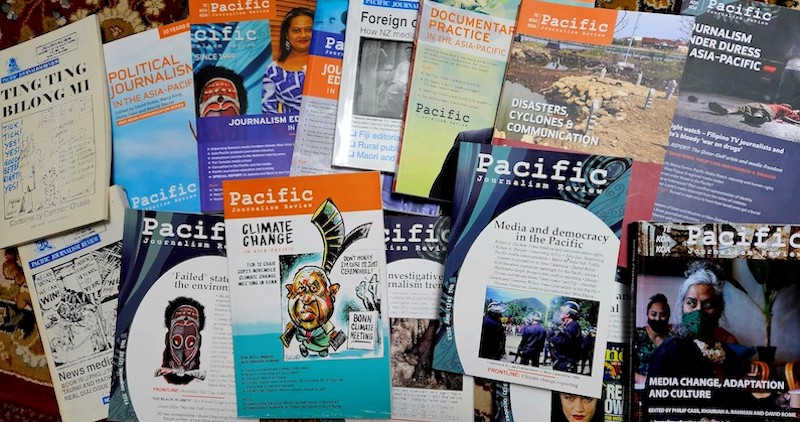 Some of the covers of PJR editions over the past 29 years.
The current 'Governance, disinformation and training' edition 29 (1&2) of Pacific Journalism Review was published last month. Here is the Call for Papers for the next edition, marking 30 years of publication since it began at the University of Papua New Guinea in 1994 – 'PJR: 30 years on – Will journalism survive?
Journal submissions deadline: January 20, 2024
Issue editors: Dr Philip Cass and Dr David Robie
Papers being considered for the 2023 double edition but which missed out have been carried forward for consideration for the next issue. The peer review and editing cycle will begin later this year.
This edition is expected be linked to a proposed conference in Fiji in mid-2024 and a celebration of the journal's longevity is being planned. More details later.
The journal especially seeks papers about innovative journalism education and training publications and programmes, or research articles addressing media, communication and climate crisis or environment related themes – particularly as they relate to the Asia-Pacific region.
Papers can include but are not restricted to:
Climate crisis communication, global crisis and the Asia-Pacific
Journalism journal or publication innovations
Crosscultural Journalism training initiatives
Pacific geopolitics challenges and journalism education
Documentary and diaspora storytelling
AI challenges to journalism truth-telling education
Reinventing communication paradigms 
Asia Pacific media and publishing history
Tensions between media theory and practice
The status of journalism in the academy
Relations between the media industry and the academy
Broadcast media in flux 
Media influence and impact 
Public relations theory and practice 
Social media, digital media and dynamic technologies 
Advertising, adaptations and changing perspectives 
Communication, education challenges and changes 
Disinformation and democracy
Language, culture and the dynamics of change 
Ethnicity, identity, gender, and the media 
Photoessay topics
The above list is a guideline and other related topics will also be considered. The journal also publishes an unthemed section. Other papers related to journalism studies, and journalism education, theory and practice will also be considered by the editors.
Submissions must be uploaded to the OJS open access website for Pacific Journalism Review on the Tuwhera indigenous research portal at Auckland University of Technology:
https://ojs.aut.ac.nz/pacific-journalism-review/
Refer to the PJR style guide:
https://ojs.aut.ac.nz/pacific-journalism-review/style-guide
For more information contact the editors:
pjreview@aut.ac.nz 
www.pjreview.info
Pacific Journalism Review on Facebook:
https://www.facebook.com/PacificJournalismReview