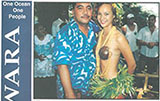 The ghost of Felix Culpa: Adventures in the journalism education trade
Abstract
What is the most effective way to teach the realities of journalism to students? This article argues that the most effective model is the community newspaper, which provides students with the opportunity to learn how to write for their own community, but also to learn the fundamentals of running a news outlet, from selling advertising to liaising with printers. It also argues that the same lessons can be applied in the digital age to online news sites and to students who need to know how to keep themselves afloat as independent journalists. Drawing on 20 years' of experience teaching journalism in different countries, including Australia, Fiji and the United Arab Emirates (UAE), the article looks at what worked, what did not and what lessons can be learned for the future.
Keywords
journalism education, Felix Culpa, Four Winds, laboratory newspapers, The Coranto, The Mirror, student newspapers, student media, student press, Wansolwara
Refbacks
There are currently no refbacks.
---
This work is licensed under a Creative Commons Attribution-NonCommercial-NoDerivatives 4.0 International License.