REVIEW: History of Vietnam War places correspondent roles in broader setting
Philip Cass

Unitec, Auckland
Keywords:
Book review, Reviews, Vietnam, Vietnam War, War Correspondents
Abstract
Vietnam: An epic tragedy 1945-1975, by Max Hastings. London: William Collins. 2018. 722 pages. ISBN 978-0-00-813298-9

WHEN SAIGON fell, 44 years ago on 30 April 1975, a number of journalists, photographers and cameramen were there to witness the final humiliation of the United States. Journalist John Pilger and cameraman Neil Davis, both Australians, were there to see the North Vietnamese Army take the city, as was New Zealander Peter Arnett, among others. Pilger's slim volume about those events, The Last Day, is a classic. Davis survived Saigon, but filmed his own death while covering an attempted coup in Bangkok in 1987.
Downloads
Download data is not yet available.
References
Bowden, T. (1987) One crowded hour. Sydney: Imprint.
Knightley, P. (2004) The first casualty. Baltimore/London: John Hopkins University Press.
Pilger, J. (1975) The last day. London: Mirror Books.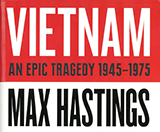 How to Cite
Cass, P. (2019). REVIEW: History of Vietnam War places correspondent roles in broader setting. Pacific Journalism Review : Te Koakoa, 25(1&2), 293-294. https://doi.org/10.24135/pjr.v25i1and2.496
Copyright (c) 2019 Philip Cass
This work is licensed under a Creative Commons Attribution-NonCommercial 4.0 International License.