US failures in strategy and the 'CNN effect'
Abstract
Reviewed book by Robert G. Patman Publication date: October, 2011
In this short, but interesting book, Robert Patman argues that US policy failures in the lead up to and aftermath of the October 1993 'Blackhawk Down' incident in Mogadishu facilitated the conditions for the terrorist attacks on the US mainland in 2001. The thesis that the US merely reaped the bad fruit of its foreign policy on 9/11 is not new, but Patman's approach is.
Downloads
Download data is not yet available.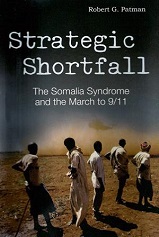 How to Cite
Buchanan, P. G. (2011). US failures in strategy and the 'CNN effect'. Pacific Journalism Review : Te Koakoa, 17(2), 218-222. https://doi.org/10.24135/pjr.v17i2.360
Copyright (c) 2011 Paul G Buchanan
This work is licensed under a Creative Commons Attribution-NonCommercial 4.0 International License.