Review: The realities of authoritarian media in China
Keywords:
authoritatianism, China, censorship, communism, democracy, global capitalism, reviews
Abstract
Review of: Stockman, D. (2012). Media Commercialization and Authoritarian Rule in China. Cambridge, UK: Cambridge University Press. ISBN 978-1-107-01844-0
China can no longer be called Communist. It is an authoritarian state in which a party that likes to call itself Communist maintains a firm grip on the country. However much the party and the corrupt party princelings enjoy the benefits of capitalism (and let us be frank that it is a distinctively 19th century robber baron style of capitalism), the government usemethods of media control that have not changed since Mao took power in 1959. Censorship has always been part of the regime, but Mao and his direct successors were always clever enough to give the masses a chance to let off steam now and then through such projects as the Hundred Flowers campaign and the Democracy Wall movement.
Downloads
Download data is not yet available.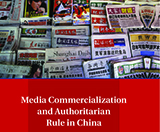 How to Cite
Cass, P. (2016). Review: The realities of authoritarian media in China. Pacific Journalism Review : Te Koakoa, 22(1), 247-248. https://doi.org/10.24135/pjr.v22i1.24
Copyright (c) 2016 Philip Cass
This work is licensed under a Creative Commons Attribution-NonCommercial 4.0 International License.