REVIEW: Noted: Disengagement and idiocy
Keywords:
democracy, United States, politics, corruption,
Abstract
Book review of: American Democracy, by Andrew Perrin. Cambridge: Polity Press. 2014, 228pp. ISBN 978-0-7456622-32-9.
Perrin's study of American democracy begins by stating what has become a commonplace of fear in many democracies, that people have become cynical and distrusting of the democractic system and that apathy and political disengagement are widespread. Only multi-millionaries backed by capitalist corporations with the deepest pockets can afford to run for office in the United States and nobody in power seems to be in any hurry to do anything about it.

Downloads
Download data is not yet available.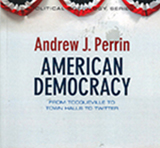 How to Cite
Cass, P. (2015). REVIEW: Noted: Disengagement and idiocy. Pacific Journalism Review : Te Koakoa, 21(2), 213-214. https://doi.org/10.24135/pjr.v21i2.141
Copyright (c) 2015 Philip Cass
This work is licensed under a Creative Commons Attribution-NonCommercial 4.0 International License.