REVIEW: Noted: Awakening from the slumber before too late
Keywords:
democracy, global capitalism, humanism, Marxism, reviews, urban planning, urban poor
Abstract
Review of: Seventeen Contradictions and the End of Capitalism, by David Harvey. London: Profile Books. 2015, 338pp. ISBN 978-1-78125-16-4
Now available in paperback for the first time, American-based scholar of Marxism David Harvey's analysis of the current crisis in capitalism provides an intriguing and thought provoking read. Harvey's familiarity with Marx is demonstrated throughout the book. He makes it clear, that while thoroughly grounded in the Marxist tradition, his analysis is not meant to be orthodox. The book is accessible to those not entirely familiar with Marx beyond the usual slogans, but he demands attention from his readers as he takes them through a variety of economic concepts.
Downloads
Download data is not yet available.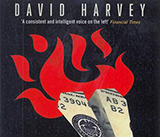 How to Cite
Cass, P. (2015). REVIEW: Noted: Awakening from the slumber before too late. Pacific Journalism Review : Te Koakoa, 21(2), 212-213. https://doi.org/10.24135/pjr.v21i2.138
Copyright (c) 2015 Philip Cass
This work is licensed under a Creative Commons Attribution-NonCommercial 4.0 International License.