REVIEW: Soul-searching and revealing memoir charts milestones
Flair and Loathing on the Front Page, by Jim Tucker
Gavin Ellis

Media Consultant and Researcher, Auckland
Keywords:
bylines, columnist, Jim Tucker, journalism, journalism education, memoirs, New Zealand News, newspapers, New Zealand, Sunday Star-Times, Taranaki Herald, The Auckland Star
Abstract
Flair and Loathing on the Front Page, by Jim Tucker. New Plymouth, NZ: Jim Tucker Media. 2022, 283 pages.
'NAMES make news' is a mantra drummed into the head of every young reporter and heaven help those who can't identify a vital quote or face. It is a lesson that veteran journalist and educator Jim Tucker never forgot. The evidence of that lies in the pages of Flair and Loathing on the Front Page, the first part of his memoir spanning a career that began in Taranaki in 1965 and which has gone full circle. Tucker is a regular columnist on the Taranaki Daily News after serving as a metropolitan newspaper reporter and editor then becoming one of New Zealand's foremost journalism trainers.
Downloads
Download data is not yet available.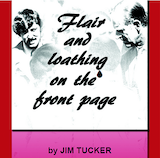 How to Cite
Ellis, G. (2022). REVIEW: Soul-searching and revealing memoir charts milestones : Flair and Loathing on the Front Page, by Jim Tucker . Pacific Journalism Review : Te Koakoa, 28(1 & 2), 237-240. https://doi.org/10.24135/pjr.v28i1and2.1254
Copyright (c) 2022 Gavin Ellis
This work is licensed under a Creative Commons Attribution-NonCommercial 4.0 International License.