REVIEW: New paradigms plus technology could change the way we report on race
Review of Reporting on Race in a Digital Era, by Carolyn Nielsen
Keywords:
case studies, journalism, journalism theory, objectivity, race relations, race reporting, reviews, United States
Abstract
Reporting on Race in a Digital Era, by Carolyn Nielsen. Cham, Switzerland: Palgrave Macmillan. xiii, 236 pages. ISBN 978-3-030-35220-2/ISBN 978-3-030-35221-9 (eBook)
CAROLYN NIELSEN has proposed a role for journalism in resolving political oppression, offering a case study on the crisis surrounding street killings of African Americans by police. This United States journalism academic provides a review of prominent work since the 1970s on journalism theory and principles. She gives an historical treatment of news media coverage in race relations and criticises 'traditional' journalism—as a central point kicking into the corpse of 'objectivity' as a key value. This is late, with objectivity and a moral neutrality, as the adopted trait of journalists, already forsaken.
Downloads
Download data is not yet available.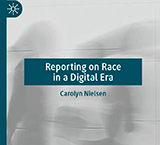 How to Cite
Duffield, L. (2020). REVIEW: New paradigms plus technology could change the way we report on race: Review of Reporting on Race in a Digital Era, by Carolyn Nielsen. Pacific Journalism Review : Te Koakoa, 26(2), 291-292. https://doi.org/10.24135/pjr.v26i2.1142
Copyright (c) 2020 Lee Duffield
This work is licensed under a Creative Commons Attribution-NonCommercial 4.0 International License.