REVIEW: Bookshelf: Guide to best practice journalism in the future
Three reviews of books by Charlie Beckett, Wilfred Burchett and John Milton
Keywords:
Bookshelf, journalism, mythology, power, reviews, scoops
Abstract
IN THIS edition of Pacific Journalism Review we begin a new section, Bookshelf, where we ask our regular contributors to pick three books that have played an important part of their academic, professional and writing lives. We begin with this selection by retired journalism academic, blogger and regular contributor to these pages, LEE DUFFIELD.
SuperMedia: Saving Journalism so it can Save the World, by Charlie Beckett. Chichester, UK: Wiley-Blackwell. 2008. 216 pages. ISBN 9781405179249.
The Paradox of Power for Journalists: back to the future of news, by Charlie Beckett. London, UK: London School of Economics, 2018. https://blogs.lse.ac.uk/polis/2018/11/23/the-paradox-of-power-for-journalism-back-to-the-future-of-news-new-book/
Downloads
Download data is not yet available.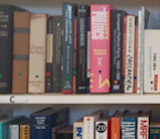 How to Cite
Duffield, L. (2020). REVIEW: Bookshelf: Guide to best practice journalism in the future: Three reviews of books by Charlie Beckett, Wilfred Burchett and John Milton. Pacific Journalism Review : Te Koakoa, 26(1), 312-313. https://doi.org/10.24135/pjr.v26i1.1111
Copyright (c) 2020 Lee Duffield
This work is licensed under a Creative Commons Attribution-NonCommercial 4.0 International License.