Somaesthetics and the non-digital in mixed reality XR education design
Keywords:
somaesthetics, mixed reality, handmade, non-digital, haptic learning
Abstract
In the past 5-10 years, there has been a move to integrate different digital and immersive learning technologies around a particular context or setting following what is known as mixed reality (MR, also known as XR). XR involves the fusing of real and virtual worlds along an immersion continuum, to create integrated environments that incorporate physical and digital elements, tools, and objects (Milgram & Kishino, 1994; Speicher et al., 2019). These environments can be especially beneficial within learning contexts as they can connect learners and communities to locations, and provide opportunities for genuine investigations in the real world (Liu et al., 2017).
Although digital technologies provide many unique and powerful affordances for education, the non-digital and handmade have much potential that the digital currently does not have. They can also enhance the meaningfulness of XR experiences (Sharma et al., 2017; Smith, 2018). Despite this, within XR education, the role of the non-digital and handmade has been previously dismissed, and there has been a lack of attention paid to developing and designing the 'real environment' (RE) end of the reality continuum within XR (Aguayo, 2017). Non-digital materials can engage learners in authentic and rich haptic sensory experiences in ways that digital technology currently cannot achieve in affordable and immediate ways. The non-digital and handmade within XR can also provide learners with deeper and more evocative experiences with materials/materiality, and provide more connection to handmade and human centered concepts through the aesthetics of craft and artisanal processes. Furthermore, when considered in a continuum of different types of experiences, handmade materials in XR can be fused with digital tools, complementing and merging the real and virtual around educational experiences and practice (Aguayo et al., 2020). This can enhance overall learning, allowing learners to benefit from the merging of different types of affordances that non-digital and digital both offer, along an experiential XR continuum.

This presentation posits some ways forward for the non-digital and handmade to be designed for and engaged with in XR education. We also open up a discussion around the potential of the non-digital and handmade to develop a deeper sense of 'authenticity' and meaningfulness in XR education design. This discussion is framed through some theories and interpretations of philosopher Walter Benjamin (Benjamin, 2010; Leslie, 1998; Zoran & Buechley, 2013), indigenous perspectives and worldviews, and current discourse in design around the importance of handmade processes. Through the inclusion of handmade elements, a more 'human', 'organic' and somaesthetic sensibility can be fostered in XR education (Smith-Harvey & Aguayo, 2021). We postulate that enhancing this sense of the 'organic', as well as handmade and craft based aesthetics can be of especial benefit within XR education design which looks to connect learners to the natural world, indigenous epistemologies, and human centered concepts, memories and experiences. We also put forth an argument for considering the non-digital, haptic and handmade within other forms of digital learning environments. This is especially pertinent given the context of the COVID-19 pandemic, and the resulting move towards online and blended learning environments across Aoteraoa New Zealand and the rest of the world.
Downloads
Download data is not yet available.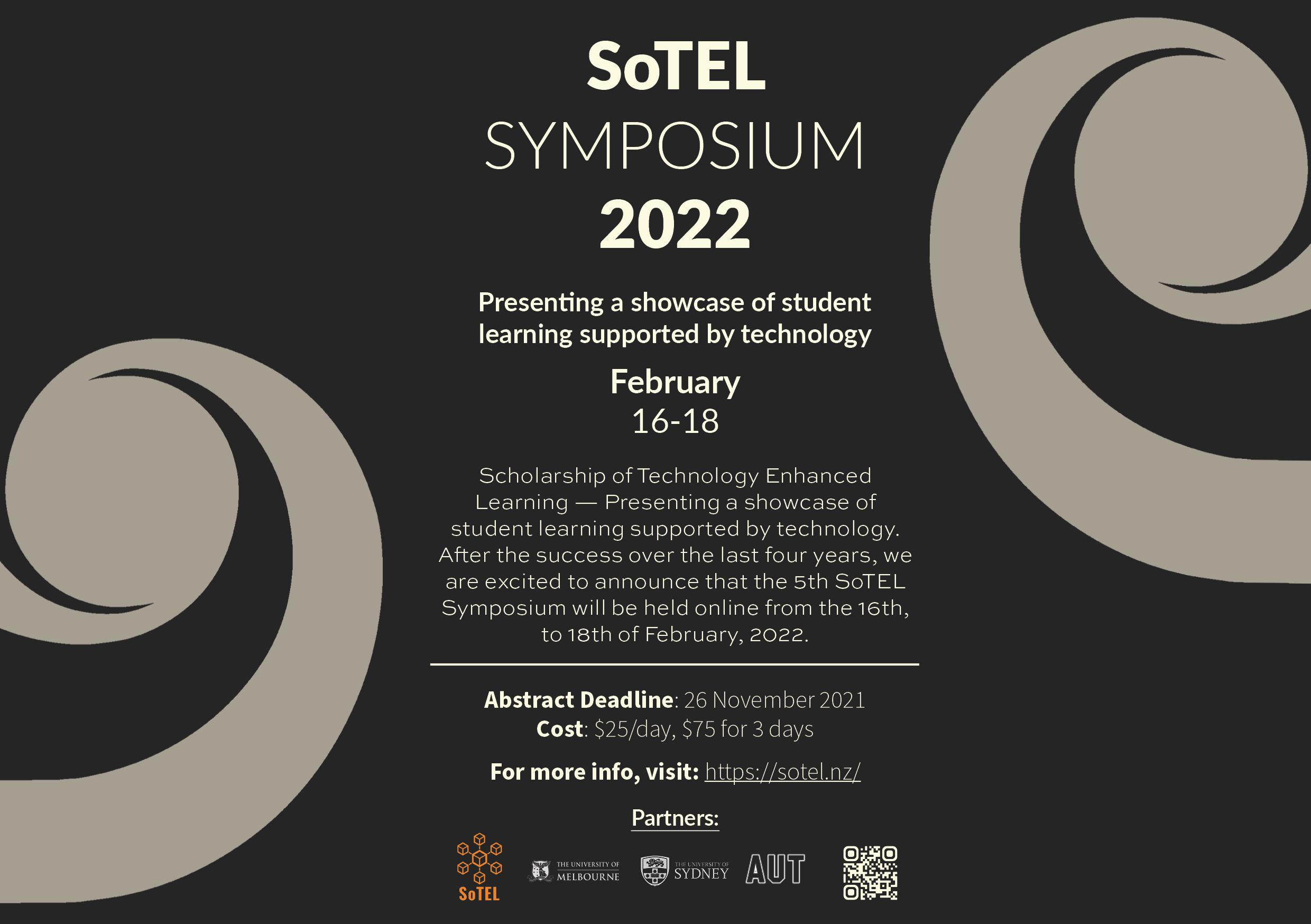 How to Cite
Smith-Harvey, J., & Aguayo, C. (2022). Somaesthetics and the non-digital in mixed reality XR education design. Pacific Journal of Technology Enhanced Learning, 4(1), 39-40. https://doi.org/10.24135/pjtel.v4i1.125
Section
SoTEL Symposium 2022
Copyright (c) 2022 James Smith-Harvey, Claudio Aguayo
This work is licensed under a Creative Commons Attribution-NonCommercial-NoDerivatives 4.0 International License.