Following the Balibo massacre's whale
Review of Shooting Balibo: Blood and Memory in East Timor, by Tony Maniaty
Keywords:
geopolitics, Timor-Leste, television, war correspondence, war correspondents, war crimes
Abstract
Early on in Tony Maniaty's Shooting Balibo we come across Herman Melville, Michelangelo Antonioni and John Dos Passos. We quickly get the message that this is as much a journey of the imagination as it is a travelogue, memoir or investigation. Maniaty tells us that when he went to East Timor as an ABC reporter in 1975, just before the ill-fated journalists, his travel reading was Melville's Moby Dick. Here we get a sense of the young journalist's ambition, his questing commitment to follow the story, just as Ahab follows his whale.
Downloads
Download data is not yet available.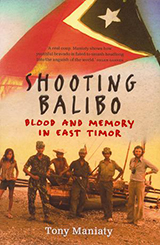 How to Cite
O'Donnell, M. (2009). Following the Balibo massacre's whale: Review of Shooting Balibo: Blood and Memory in East Timor, by Tony Maniaty. Pacific Journalism Review : Te Koakoa, 15(2), 210-213. https://doi.org/10.24135/pjr.v15i2.993
Copyright (c) 2009 Pacific Journalism Review
This work is licensed under a Creative Commons Attribution-NonCommercial 4.0 International License.