Drawing fire
Keywords:
cartoonists, censorship, self-censorship, freedom of expression
Abstract
While cartoonists at a 'Cartoons for Peace' conference generally claimed that freedom of expression was a byword in their respective newspapers, many, in the same breath, identified the cartoon work of others that they would not dare submit. This divergence, argues the author in this commentary, suggests that cartoon taste and acceptability are based on learned or innate cultural traits and sensibilities and that self-censorship perhaps plays a bigger role in the thinking of cartoonists than many might admit, or even realise. So just as one man's terrorist is another's freedom fighter, so the attitudes of cartoonists are likely to have a similar range.
Downloads
Download data is not yet available.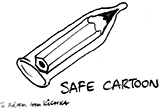 How to Cite
Evans, M. (2009). Drawing fire. Pacific Journalism Review : Te Koakoa, 15(1), 38-44. https://doi.org/10.24135/pjr.v15i1.963
Copyright (c) 2009 Pacific Journalism Review
This work is licensed under a Creative Commons Attribution-NonCommercial 4.0 International License.