OBITUARY: A guerrilla and a one-man band
Mark Worth, documentary filmmaker and journalist, 1958-2004
Keywords:
obituaries, filmmaking, political activism, political journalism, West Papua
Abstract
In the coastal village of Abepura in West Papua, one of Australia and the Pacific's great underground artists was recently laid to rest. His name was Mark Worth, although he went by a variety of nicknames, including Kurtz, Captain Kino, Captain Kaos and, affectionately, 'Worthy'. Worth, who died of pneumonia at 45, was one of Australia's finest frontier cameramen. He aspired to the pantheon of great Australian documentary filmmakers and conflict cameramen – Frank Hurley, Damien Parer and Neil Davis – and his contemporary peers included Dennis O'Rourke, Bob Connelly, Mark Davis and David Brill.
Pictured: Mark Worth / Ben Bohane
Downloads
Download data is not yet available.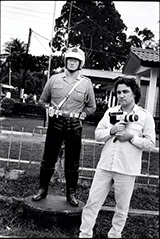 How to Cite
Bohane, B. (2019). OBITUARY: A guerrilla and a one-man band: Mark Worth, documentary filmmaker and journalist, 1958-2004. Pacific Journalism Review : Te Koakoa, 10(1), 201-206. https://doi.org/10.24135/pjr.v10i1.786
Copyright (c) 2004 Pacific Journalism Review
This work is licensed under a Creative Commons Attribution-NonCommercial 4.0 International License.