Blood on the cross
East Timor and West Papua 1
Keywords:
aid, armed conflict, conflict journalism, human rights, investigative journalism, storytelling, West Papua
Abstract
An ABC Four Corners team investigates allegations about the role of the International Red Cross and the British military in a massacre in the Southern Highlands of Irian Jaya during May 1996. The story of what happened has never been told before.
Caption: Australian journalist Mark Davis and Kelly Kwalik in West Papua (Irian Jaya). Image: ABC Four Corners
Downloads
Download data is not yet available.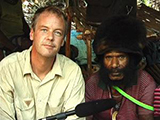 How to Cite
Davis, M. (2000). Blood on the cross: East Timor and West Papua 1. Pacific Journalism Review : Te Koakoa, 6(1), 10-12, 15. https://doi.org/10.24135/pjr.v6i1.665
Copyright (c) 2000 Pacific Journalism Review
This work is licensed under a Creative Commons Attribution-NonCommercial 4.0 International License.