FRONTLINE: Background to 'Sulphate Sunrise' - investigating New Caledonia
Keywords:
Case studies, Decolonisation, Environmental journalism, Frontline, Human rights, Indigenous, Investigative journalism, Mining, Research journalism
Abstract
Reporting on Vale SA, the Brazilian-based world's second-largest nickel producer which aims to start production soon at its US$4.5 billion Goro refinery project in New Caledonia, represents a good example of the need to dedicate time building contacts on the ground and speaking to a variety of sources. This article examines a 
Global Mail
 investigation into an environmental issue that is complex from a scientific and technological point of view, but is further complicated by the multiple social, ethical, and spiritual perspectives linked to it. The mine is deeply embedded in a specific local political, economical and social framework—that of decolonisation and questions over legitimacy of power (Horowitz 2009, p. 249; van Vuuren 2008, p. 74). In terms of sources, a French environmentalist will have a radically different perspective to the environment to that of an indigenous Kanak, for whom land is first and foremost the source of identity and dignity. Views within the Kanak community also diverge.
Downloads
Download data is not yet available.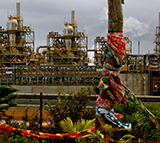 How to Cite
Gooch, N. (2012). FRONTLINE: Background to 'Sulphate Sunrise' - investigating New Caledonia. Pacific Journalism Review : Te Koakoa, 18(1), 148-170. https://doi.org/10.24135/pjr.v18i1.294
Copyright (c) 2012 Nicole Gooch
This work is licensed under a Creative Commons Attribution-NonCommercial 4.0 International License.