Review: Seymour Hersh—behind the man and the muckraker myths
Keywords:
investigative journalism, reviews, muckracking
Abstract
Review of: Seymour Hersh: Scoop Artist, by Robert Miraldi. Nebraska: University of Nebraska Press, 2013, 415pp. ISBN 978-1-61234-475-1.

After winning acclaim for his depiction of yellow press icon Charles Edward Russell, award-winning journalist and academic Robert Miraldi examines the legacy of another mythical investigative reporter and obsessive 'muckracker'. His biography of the chameleon-like and elusive Seymour Hersh employs the same formidable forensic skills his subject is renowned for, but to dig into the one topic Hersh is genuinely uncomfortable discussing. From his initial coverage of My Lai through to his work on Abu Grahib, Hersh's career has seen him reach the highest pinnacles of journalism, while also causing the kind of controversy and polarisation which would have destroyed the reputations of lesser mortals.
Downloads
Download data is not yet available.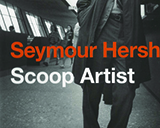 How to Cite
Ellmers, S. (2016). Review: Seymour Hersh—behind the man and the muckraker myths. Pacific Journalism Review : Te Koakoa, 22(1), 245-246. https://doi.org/10.24135/pjr.v22i1.23
Copyright (c) 2016 Steve Ellmers
This work is licensed under a Creative Commons Attribution-NonCommercial 4.0 International License.