Noted: Modern activist journalism
Keywords:
foreign policy, investigative journalism, conspiracy, terrorism, politics, global news, censored,
Abstract
Review of: Censored 2014: Fearless Speech in Fateful Times, by Mickey Huff and Andy Lee Roth with Project Censored. New York: Seven Stories Press, 2013, 431pp. ISBN 978-1-60980-484-7
From its provocative title to its inclusion of contributions from observers like John Pilger, Censored 2014 provides no space for a counter narrative to its criticism of what it calls the corporate or establishment media. Heroes abound but they aren't The New York Times or CNN. Instead we're told it's Bradley Manning, Glen Greenwald or Iceland who deserve praise rather than censure. The project feels there are three main stories which are routinely and deliberately ignored by existing media outlets: climate change, economic inequality and conflicts launched in the name of Empire. This last conclusion is one that goes uncontested even when chapters are devoted to how independent journalists are disparaged as conspiracy theorists by their mainstream rivals if they call attention to false flag terrorism, or demand full investigations into 9/11.
Downloads
Download data is not yet available.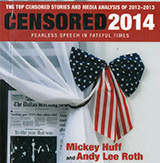 How to Cite
Ellmers, S. (2014). Noted: Modern activist journalism. Pacific Journalism Review : Te Koakoa, 20(2), 261. https://doi.org/10.24135/pjr.v20i2.183
Copyright (c) 2014 Steve Ellmers
This work is licensed under a Creative Commons Attribution-NonCommercial 4.0 International License.