EDITORIAL: Trials of celebrity
Barry King

Allison Oosterman

Rosser Johnson
Keywords:
Celebrity, Fame, Heroism, New Zealand, Publicity
Abstract
THIS ISSUE of Pacific Journalism Review engages with the theme of the dynamics of fame in a small country. In contrast to the dominant focus in the newly emergent field of Celebrity Studies on celebrity as a global phenomenon, the emphasis in this issue is on the interface between the global and the local; on questions of how the distinctiveness of national and local values fares when caught up in or of willingly imitating the circulation of global fame and influence. Accounts of celebrity often focus on the notion of fetishism—the complex process through which specific idols become objects of veneration on whose admirable or even infamous qualities are presented as emanating from the inner recesses of a luminous personality. The importance of this aspect of celebrity and celebrity worship is not to be denied. But there is another feature of celebrity and stardom that complements and energises the engagement of fans, the interest of the general public and the ambitions of the press and media to create and sustain a market for copy. Celebrities and stars are also totems that create a sense of unity, an imagined community. Individuals express and explore a sense of collective identity, define rituals of belonging, separate themselves from others and manage the relationship between society and nature—in the case of celebrities, the nature in question, is most often, human nature (Rojek, 2012, pp. 130-131). In the case of small countries, like New Zealand, the internal impact of Hollywood stars and celebrities on American popular culture is intensified by the fact that the celebrity system is a totemic import. Patterns and processes for rewarding talent and ascribing fame that have reached the acme of intensity in Global Hollywood, interface with locally situated systems of beliefs and values. This might be seen as a process of colonisation—and to an extent it is.
Downloads
Download data is not yet available.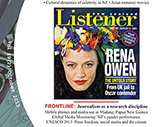 How to Cite
King, B., Oosterman, A., & Johnson, R. (2013). EDITORIAL: Trials of celebrity. Pacific Journalism Review : Te Koakoa, 19(2), 7-10. https://doi.org/10.24135/pjr.v19i2.214
Copyright (c) 2013 Barry King, Allison Oosterman, Rosser Johnson
This work is licensed under a Creative Commons Attribution-NonCommercial 4.0 International License.