REVIEW: Insider's view of nuclear-free NZ's 'people power'
Keywords:
geopolitics, nuclear weapons, nuclear-free Pacific, transnational protest, reviews,
Abstract
Book review of: Peace, Power & Politics: How New Zealand Became Nuclear Free, by Maire Leadbeater. Dunedin: Otago University Press, 2013, 344pp. , ISBN 9781877578588
Journalism's focus on major political figures and high level negotiations leaves the more diffuse activities of grassroots politics in the shadows. So it is refreshing to see a well-researched book unapologetically placing civic groups at centre-stage. Marie Leadbeater's thorough chronology of the last 40 years of New Zealand's peace movement and the fight for a nuclear-free country fills some gaps in our knowledge about the mechanics of 'people power'. It's an insider's view. Leadbeater, daughter of feminist and peace campaigner Elsie Locke, says activism is in her genes. She was secretary and then spokeperson for Auckland's Campaign for Nuclear Disarmament, closely involved with the nuclear free protests of the 1970s and 1980s and still demonstrating at Waihopai's satellite communication monitoring station in 2013.
Downloads
Download data is not yet available.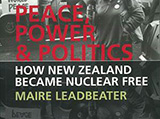 How to Cite
Comrie, M. (2014). REVIEW: Insider's view of nuclear-free NZ's 'people power'. Pacific Journalism Review : Te Koakoa, 20(1), 253-255. https://doi.org/10.24135/pjr.v20i1.201
Copyright (c) 2014 Margie Comrie
This work is licensed under a Creative Commons Attribution-NonCommercial 4.0 International License.