REVIEW: Vital role of journalism underlined
Keywords:
disaster reporting, investigative journalism, reviews,
Abstract
Book review of: Tragedy at Pike River Mine: How and Why 29 Men Died, by Rebecca Macfie. Wellington: AWA Press, 2013, 224pp. ISBN 9781877551901
Journalist Rebecca Macfie felt the emotional shock waves of the Pike River Mine disaster in 2010. She was researching the background of the mining company for a weekly news magazine article to explain to readers how the accident that killed 29 men had happened when she was captivated by the story. Her research soon turned up information from which she 'formed the view that the disaster was not an "accident", but rather a corporate failure of the worst order' (p. 2). Macfie was thus galvanised into action to write a book that would make the Pike story understandable to a wide audience including the families, friends and colleagues of those who died, for New Zealanders and as an object lesson for business and government leaders.
Downloads
Download data is not yet available.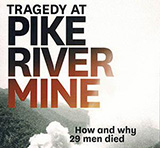 How to Cite
Gearing, A. (2014). REVIEW: Vital role of journalism underlined. Pacific Journalism Review : Te Koakoa, 20(1), 251-252. https://doi.org/10.24135/pjr.v20i1.200
Copyright (c) 2014 Amanda Gearing
This work is licensed under a Creative Commons Attribution-NonCommercial 4.0 International License.