REVIEW: Exposing problems Muslim immigrants face in NZ
Review of How To Be A Bad Muslim and Other Essays, by Mohamed Hassan
Adam Brown

Independent Researcher, Auckland
Keywords:
Egypt, essays, Islam, journalism, migrants, New Zealand, racial profiling, religion, reviews
Abstract
How To Be A Bad Muslim and Other Essays, by Mohamed Hassan. Auckland: Penguin/Random House, 2022. 208 pages. ISBN 9780143776215.
This is a collection of 19 short essays by Mohamed Hassan, an award-winning poet and international journalist. He was born in Cairo, but moved to Auckland, New Zealand, at the age of eight. This personal history underlies much of his writing: his fond memories of Egypt and its collectivist society and extended families, versus his adolescence as a migrant with a clearly identifiable Muslim name in individualist New Zealand. After 9/11, suspicions deepened and Muslims were subject to collective guilt and racial profiling, despite that fact that Muslims around the world condemned the attacks.
Downloads
Download data is not yet available.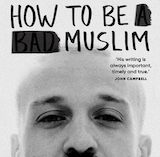 How to Cite
Brown, A. (2023). REVIEW: Exposing problems Muslim immigrants face in NZ: Review of How To Be A Bad Muslim and Other Essays, by Mohamed Hassan. Pacific Journalism Review : Te Koakoa, 29(1 & 2), 283-284. https://doi.org/10.24135/pjr.v29i1and2.1302
Copyright (c) 2023 Adam Brown
This work is licensed under a Creative Commons Attribution-NonCommercial 4.0 International License.