REVIEW: Parents' letters trace story of triumph and tragedy from Egypt to New Zealand
Review of Wars Apart: WWII Letters of Love and Anguish from Cairo to Christchurch, by Alan Samson
Mohamed El-Bendary

Independent Researcher; Former Journalism Lecturer at Massey University
Keywords:
Egypt, history, historiography, journalism, memoirs, New Zealand, reviews, World War II
Abstract
IN HIS newly released Wars Apart: WWII Letters of Love and Anguish From Cairo to Christchurch, retired award-winning New Zealand journalist and academic Alan Samson tells the love story of his parents through the letters and photographs they exchanged while they were stationed in the Middle East during the Second World War. They later migrated to New Zealand and their story continued from Cairo to Christchurch. Cairo was the place in which his parents began their story, which continued as they adapted to the diversity and triumphs of a new life in New Zealand. A journalism lecturer who taught at Wellington's Massey University for more than a decade and is a former Pacific Journalism Review reviews editor, Samson uses his academic research skills and journalistic expertise in telling this story of love and anguish, hope and despair, of his own mother and father who had distinguished service records with the South African and British armies.
Downloads
Download data is not yet available.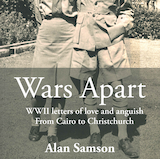 How to Cite
El-Bendary, M. (2022). REVIEW: Parents' letters trace story of triumph and tragedy from Egypt to New Zealand: Review of Wars Apart: WWII Letters of Love and Anguish from Cairo to Christchurch, by Alan Samson. Pacific Journalism Review : Te Koakoa, 28(1 & 2), 243-246. https://doi.org/10.24135/pjr.v28i1and2.1228
Copyright (c) 2022 Mohamed El-Bendary
This work is licensed under a Creative Commons Attribution-NonCommercial 4.0 International License.