EDITORIAL: Melanesian media freedom
Kasun Ubayasiri

Griffith University

Faith Valencia-Forrester

Griffith University

Tess Newton Cain

Chair, Melanesia Media Freedom Group, Brisbane

David Robie

Pacific Media Centre, Auckland University of Technology

http://orcid.org/0000-0003-2176-8185
Keywords:
editorial, journalism, media freedom, media law, Melanesia, Melanesia Media Freedom Forum
Abstract
The sovereign states of Melanesia are countries where the yoke of colonialism and struggles for independence are still within living memory. There are territories within Melanesia where the questions and complexities associated with achieving self-determination are very much live issues. In West Papua, this issue is one over which blood continues to be spilt. As these countries, and the communities within them, grapple with political-economic and technical shifts, the need for independent journalism is self-evident. However, journalists, editors, publishers and media owners face a barrage of challenges to their ability to operate free from repression or coercion by those who wield power in their societies. Some of these challenges are overt and can extend to threats or physical intimidation. Others are more subtle but no less pervasive and damaging. They lead to a narrowing of the media landscape, the loss of talented professionals to other areas, the rise of self-censorship, and more.
Downloads
Download data is not yet available.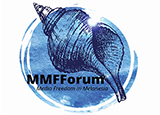 How to Cite
Ubayasiri, K., Valencia-Forrester, F., Newton Cain, T., & Robie, D. (2020). EDITORIAL: Melanesian media freedom. Pacific Journalism Review : Te Koakoa, 26(1), 7-14. https://doi.org/10.24135/pjr.v26i1.1117
Copyright (c) 2020 Kasun Ubayasiri, Tess Newton Cain, Faith Valencia-Forrester, David Robie
This work is licensed under a Creative Commons Attribution-NonCommercial 4.0 International License.