REVIEW: The sacking of an editor
How the editor of the New Zealand Listener was dismissed after a row with the Board
Jeremy Rees

Radio New Zealand
Keywords:
editorials, journalism, magazines, media freedom, New Zealand, NZBC, NZ Listener
Abstract
Commentary: On 25 July 1972, the Board of the New Zealand Broadcasting Corporation decided to terminate the editorship of Alexander MacLeod with three months' pay, effective immediately. The Listener had only had three editors since its launch as a broadcasting guide in 1939. Its founder Oliver Duff and successor Monty Holcroft, the revered editor of 18 years, built it up as a magazine of culture, arts and current events on top of its monopoly of listings of radio and television programmes. Both men managed to establish a sturdy independence for the magazine which was still the official journal of the New Zealand Broadcasting Service, later to become the New Zealand Broadcasting Corporation. So, the dismissal of the editor was a sizable event. The National government of the day in New Zealand ordered a Commission of Inquiry into whether the sacking was above board and whether it was politically influenced. This article is the story of the commission's findings.
Downloads
Download data is not yet available.
References
Report of the Commission of Inquiry into the Dismissal of the Editor of the New Zealand Listener. (1972). Presented to the House of Representatives by Command of His Excellency the Governor-General. Commissioner: E A Lee. Wellington, NZ: Government Printer. Available at the Alexander Turnbull Library, P 658.313 NZ.COM 1972
Te Ara Encyclopedia of New Zealand (n.d). Available at https://teara.govt.nz/en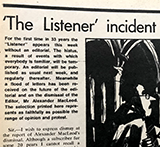 How to Cite
Rees, J. (2020). REVIEW: The sacking of an editor: How the editor of the New Zealand Listener was dismissed after a row with the Board. Pacific Journalism Review : Te Koakoa, 26(1), 294-301. https://doi.org/10.24135/pjr.v26i1.1100
Copyright (c) 2020 Jeremy Rees
This work is licensed under a Creative Commons Attribution-NonCommercial 4.0 International License.