The media and the coup leader: Sitiveni Rabuka
Fiji Coups Retrospective 1
Keywords:
conflict reporting, Fiji coups, media ethics, Sitiveni Rabuka
Abstract
Brigadier-General Sitiveni Rabuka, the former prime minister of Fiji who gained notoriety for staging twin coups in 1987, has enjoyed a love-hate relationship with the Fiji and Pacific media for almost two decades. University of Canberra PhD student, Anthony Mason, interviewed Rabuka in the course of his research into Australian media coverage of the coups. He also interviewed the former editor of The Fiji Times, Vijendra Kumar. Pacific Journalism Review is publishing the transcripts of these interviews, where both Rabuka and Kumar reflect on the May 1987 coup and its aftermath—helping to put the May 2000 coup into perspective.
Downloads
Download data is not yet available.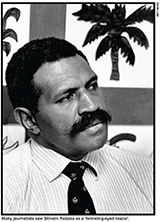 How to Cite
Mason, A. (2005). The media and the coup leader: Sitiveni Rabuka: Fiji Coups Retrospective 1. Pacific Journalism Review : Te Koakoa, 11(2), 227-232. https://doi.org/10.24135/pjr.v11i2.1058
Copyright (c) 2005 Pacific Journalism Review
This work is licensed under a Creative Commons Attribution-NonCommercial 4.0 International License.